Obama Administration Silent As American Says A U.S. Ally Is Torturing Her Family
The United Arab Emirates claims the men supported militant Islamists in Libya.
http://www.huffingtonpost.com/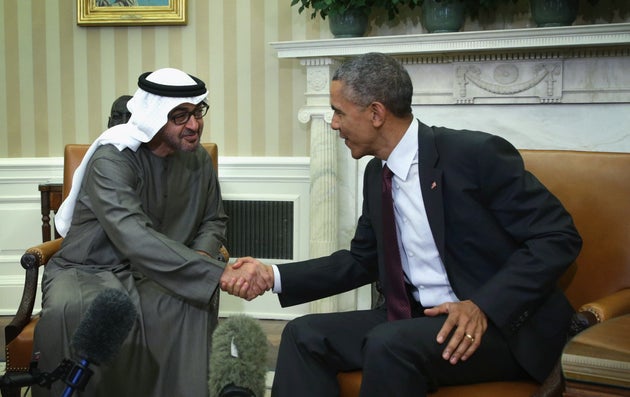 ALEX WONG VIA GETTY IMAGES
Amal Eldarat told The Huffington Post that her father Kamal and brother Momed, who were arrested by security officials in the United Arab Emirates, are being deprived of basic medical care, were forced to sign confessions they didn't understand, and received inadequate access to their attorneys.
"[The State Department] contacted me and told me that unfortunately, my brother had lost his hearing from the torture in his left ear and that they're ensuring that he gets access to medical care, and that didn't take place," Amal Eldarat told The Huffington Post on Thursday. "My brother was complaining nonstop about the pain in his ear and the damage that has caused to his eardrum, and the U.S. Embassy in Abu Dhabi kept telling me that they're pushing to ensure he gets access to an ear specialist. Now, 17 months later, my brother's lost his hearing in his left ear."
The State Department is telling her "that consular services' scope of work is very limited to ensuring that my dad and my brother get a fair trial," she said. "Fair trial? They're being charged under a law that violates the UAE constitution."
Asked if she thought the U.S. government believed the allegations the UAE was making against her father and brother, Amal Eldarat said, "I don't think they think it's legit, but they're silent."
Though American diplomats on the ground have followed developments in the case, the State Department has spoken rarely of the Eldarats during their 17 months in detention. The U.S. Embassy in the UAE did not immediately respond to a Huffington Post request for comment.
Eldarat made her remarks in an interview on The Huffington Post's "So That Happened" podcast. Skip forward to 41:25 below to hear the full conversation:
Kamal Eldarat is originally from the city of Misrata in western Libya. He left Libya for the U.S., obtaining political asylum in 1987 because Washington judged that he had a well-founded fear of persecution by the Qaddafi government.
The Eldarat family has lived in the United Arab Emirates since 1997. The UAE is a close American partner in the Middle East, key to the U.S. air force's capabilities in the region and involved militarily in U.S.-led operations in Afghanistan, Syria and Iraq.
Top players in Misrata have supported the militia aligned with the Islamists in the west, Libya Dawn, because many of them suspect that the forces in the east seek to impose another version of the Qaddafi regime.
Eldarat said her family collected humanitarian assistance for Misrata in 2011, but that it was inaccurate for the UAE to allege that her father or her brother had supported forces there who helped the Brotherhood.
Amal Eldarat disputed that portrayal.
She said her father and brother did not have access to a lawyer or their family until Jan. 18, 2016, when they were told they were being charged over ties to Libyan groups.
Her father and brother spent their first four months in detention in a secret UAE jail her brother described to her as "the most technologically advanced haunted house, [with] lighting and noises and buzzing sounds and torture," she said. "It was horrific."
She is also worried about the quality of the evidence being used in the UAE court, saying it is limited to hundreds of pages of signed confessions -- "with insane confessions."
Her father, meanwhile, stood up at their last court appearance on Feb. 29 and yelled at the state witness, the Eldarats' interrogator, telling him to admit he had obtained the confessions by threatening the Eldarat family.
Amal Eldarat said she is determined to remain vocal about her family members' treatment, because staying silent for months -- which she had done on the advice of Emirati and American officials -- did not garner results.
"I would like the U.S. government to push and ensure that my dad and my brother get a fair trial," Amal Eldarat told HuffPost. "And hopefully if we get a fair trial, then I know that they will be released."