Yemen crisis: How bad is the humanitarian situation?
UN officials have been warning for months that Yemen is facing a dire humanitarian situation. How bad has the situation become?
The country is experiencing 'a humanitarian catastrophe'.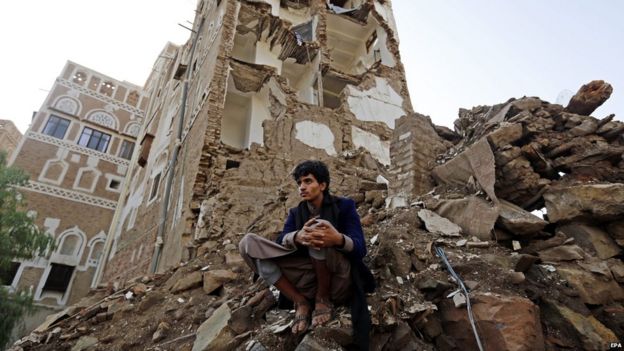 The destruction of infrastructure and restrictions on imports imposed by a Saudi-led coalition carrying out air strikes against the rebels have led to 21 million people being deprived of life-sustaining commodities and basic services.
---
Yemen was already struggling.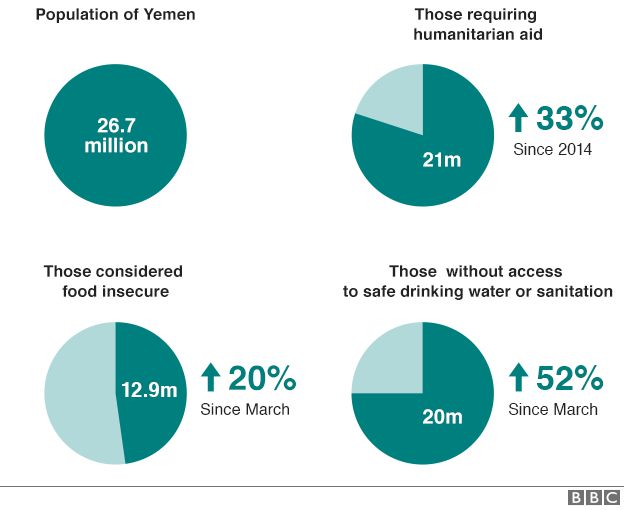 Yemen has been plagued by years of instability, poor governance, lack of rule of law and widespread poverty.
Before March, almost half of all Yemenis lived below the poverty line, two-thirds of youths were unemployed, and basic social services were on the verge of collapse.
Almost 16 million people, or 61% of the population, were in need of some form of humanitarian assistance.
---
Civilians are bearing the brunt of the violence.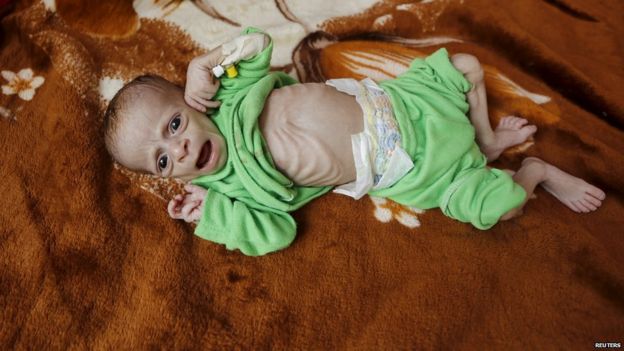 Since 26 March, when the Saudi-led coalition began bombing rebel forces, at least 1,950 civilians have been killed and 4,271 wounded in air strikes and fighting on the ground, according to the UN.
---
Four out of five Yemenis now need aid.
The conflict has now reached 21 out of 22 of Yemen's provinces and shows no sign of ending. More than 1.4 million people have been displaced.
An estimated 12.9 million are considered food insecure, an increase of 20% in six months, according to the WFP. Six million are severely food insecure, while more than 1.2 million children are suffering from moderate acute malnutrition and half a million are severely malnourished.
Yemen usually imports more than 90% of its food. The naval embargo and fighting around the port of Aden have stopped all but a fraction of imports getting through, causing severe shortages of food and price rises. A lack of fuel, coupled with insecurity and damage to markets and roads, have also prevented supplies from being distributed.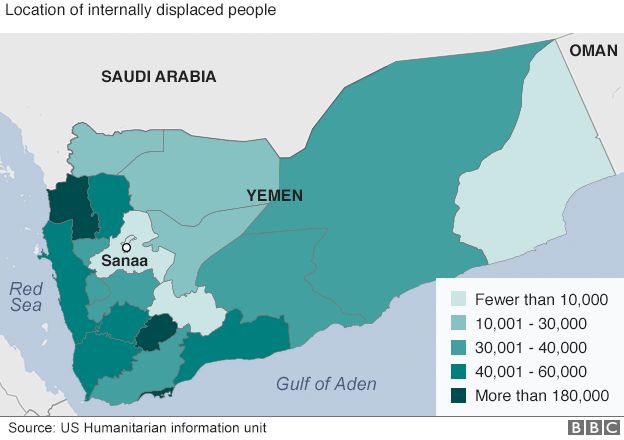 The restrictions on imports of fuel - essential for maintaining the water supply - combined with damage to pumps and sewage treatment facilities, also mean that 20.4 million people now lack access to safe drinking water, sanitation or hygiene services - an increase of 52% since March.
People have been forced to rely on untreated water supplies and unprotected wells, placing them at risk of life-threatening illnesses such as diarrhoea and cholera.
Those affected, however, will struggle to get medical help. An estimated 15.2 million people across Yemen now lack access to basic healthcare - an increase of more than 40% since March.
A large number of health facilities have been either destroyed or damaged by the fighting. Others have been forced to close down because of a lack of medicines, supplies, equipment, and fuel to run generators.
---
Aid organisations are struggling to help.
More than 70 humanitarian organisations have been working to help those in need. However, a lack of funding and access constraints have critically hampered their efforts.
In June, the UN launched an appeal for $1.6bn (£1bn) to allow it to assist 11.7 million people. But as of 19 August it was only 18% funded, forcing UN agencies to borrow approximately $160m (£100m) from internal funds and preventing them from scaling up operations. Saudi Arabia pledged to fully fund the UN's initial appeal for $274m in April, but no money has materialised.