We're one crucial step closer to seeing Tony Blair at The Hague
Desmond Tutu has helped us see the true nature of what the former prime minister did to Iraq and increased pressure for a prosecution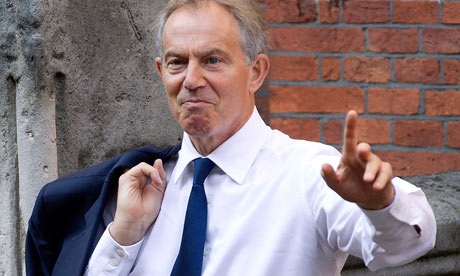 For years it seems impregnable, then suddenly the citadel collapses. An ideology, a fact, a regime appears fixed, unshakeable, almost geological. Then an inch of mortar falls, and the stonework begins to slide. Something of this kind happened over the weekend.
His foreign secretary, Jack Straw, told Blair that for the war to be legal, "i) there must be an armed attack upon a state or such an attack must be imminent; ii) the use of force must be necessary and other means to reverse/avert the attack must be unavailable; iii) the acts in self-defence must be proportionate and strictly confined to the object of stopping the attack." None of these conditions were met. The Cabinet Office told him: "A legal justification for invasion would be needed. Subject to law officers' advice, none currently exists."
Without legal justification, the attack on Iraq was an act of mass murder. It caused the deaths of between 100,000 and a million people, and ranks among the greatest crimes the world has ever seen. That Blair and his ministers still saunter among us, gathering money wherever they go, is a withering indictment of a one-sided system of international justice: a system whose hypocrisies Tutu has exposed.
The second justification, attempted again by Blair this weekend, is that there was a moral case for invading Iraq. Yes, there was one. There was also a moral case for not invading Iraq, and this case was stronger.
But while the case against Blair is strong, the means are weak. Twenty-nine people have been indicted in the international criminal court, and all of them are African. (Suspects in the Balkans have been indicted by a different tribunal). There's a reason for this. Until 2018 at the earliest, the court can prosecute crimes committed during the course of an illegal war, but not the crime of launching that war.
Should we be surprised? Though the Nuremberg tribunal described aggression as "the supreme international crime", several powerful states guiltily resisted its adoption. At length, in 2010, they agreed that the court would have jurisdiction over aggression, but not until 2018 or thereafter. Though the offence has been recognised in international law for 67 years, the international criminal court (unlike the Rwanda and Yugoslavia tribunals, which hear cases from before they were established) will be able to try only crimes of aggression committed beyond that date.
The other possibility is a prosecution in one of the states (there are at least 25) which have incorporated the crime of aggression into their own laws. Perhaps Blair's lawyers are now working through the list and cancelling a few speaking gigs.
That looked, until this weekend, like an almost impossible prospect. But when the masonry begins to crack, impossible hopes can become first plausible, then inexorable. Blair will now find himself shut out of places where he was once welcome. One day he may find himself shut in.